We all know that losing weight is often down to a healthier diet and more exercise, but very often life gets in the way. That's why we've brought the two things together in the form of FREE weekly sessions that include 45 minutes of exercise and 45 minutes of nutritional advice, where you can learn more about eating healthily.
Why lose weight
Maintaining a healthy weight can do so much for both your physical and mental well-being. If you're carrying excess weight it means you're more likely to suffer medical conditions including Type 2 diabetes, Coronary heart disease and certain cancers, including breast and bowel. You also have an increased chance of suffering a stroke and a heart attack and weight issues are also linked to depression.
Who can lose weight with us?
Staffordshire residents (excluding Stoke on Trent) aged 18 or over and who have:
a BMI of 28+ with a long term medical condition, or
Please contact us to find out if you are eligible for this service
How we can help you to lose weight
Join us in our free weekly nutrition sessions, aimed at providing practical information and advice for creating long-term healthy eating habits. Our sessions are delivered by a qualified Nutritionist and you will also be supported by a Physical Activity Specialist to help maximise weight loss through a tailored exercise programme.
We have programmes that are delivered within community settings as well as virtual groups on Zoom, a digital-only option, and with new evening face to face and virtual groups available.
Or, you could succeed with one of our partners!
As an alternative option to our own programmes, we are proud to be partnering with Slimming World and Weight Watchers. If you have not used there services within the last year, we are able to provide Free 12 week access to join one of your local groups.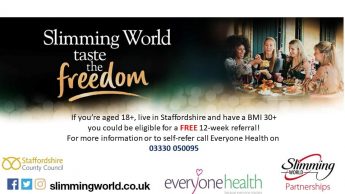 ---
Adult Weight Managment for those living with mental health challenges
Adult weight management programme for people with severe mental health issues. Led by non-judgemental and supportive nutritionists and physical activity specialists who recognise that making these changes alongside mental health challenges can be difficult.
Working on the SMI Lifestyle Service South Staffordshire delivering on behalf of MPFT.
The team are:
Health Trainer – Alisha Kirkham
Tia Boddie – Nutritionist
Matt Davis – Nutritionist
Jake Bennett – Physical Activity Specialist
Start losing weight today
If you're aged 18 or above and think you could benefit from this service, contact us to discuss your eligibility and book free your place.
1
You can also contact us on 0333 005 0095