A free NHS Health Check can help you reduce the risk of heart disease, stroke, kidney disease, diabetes or dementia. ***Due to Covid-19, we are unfortunately unable to deliver NHS Health Checks at present. Please continue to check back for further announcments***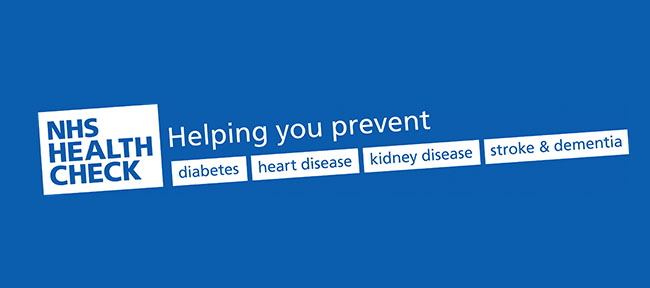 Even if you feel perfectly well, as you get older your risk of developing certain diseases such as a stroke, kidney disease, type 2 diabetes or heart disease increases. That's why the NHS Health Check is offered to people aged 40-74 who have not been diagnosed with these conditions.
Who can have an NHS Health Check?
If you're aged 40 to 74 and live in Staffordshire.
You should have a health check every 5 years if you have not had a stroke, or you do not have heart disease, diabetes or kidney disease.
Please contact us to find out if you are eligible for this service
Why have an NHS Health Check?
The NHS Health Check is a free check-up of your overall health. Most people will be fine, but if you are at risk, we'll support you to make the simple changes needed. That way, if you're at risk of getting certain health problems such as heart disease, diabetes, kidney disease or a stroke it can be nipped in the bud before it becomes serious.
What's involved in an NHS Health Check
During this free 'midlife MOT' you'll be asked some lifestyle questions and a health professional will do some simple tests.
During the 20-30 min session, they will check your Blood pressure, Height, Weight, BMI (a measure of whether you are a healthy weight), Cholesterol and HbA1C (diabetes).
Where can you have an NHS Health Check
Unfortunately, due to Covid-19, we have had to suspend our NHS Health Check offering. We are working on ways to safely deliver NHS Health Checks so please check back for the latest updates.
Arrange your NHS Health Check today
Contact us to register your interest with us. We will be in touch once the service is made available once more.
Or call 0333 005 0095