You might be feeling lonely or isolated for many reasons, such as if you live alone or don't regularly meet with friends and family. Following the recent restrictions due to Covid-19, Everyone Health has launched its FREE Stay In Touch telephone and postal service, providing an opportunity to meet new friends whilst at home.
Why seek help for loneliness
If you suffer from loneliness or isolation, you're not alone. Around a quarter of UK adults say they often feel lonely and it's something that can have a huge impact on both your physical and mental wellbeing. In fact, studies have shown it can be as bad for you as smoking 15 cigarettes a day! That's because it can lead to depression, high blood pressure, anxiety, tiredness and insomnia.
How we can help with loneliness
Our friendly telephone and virtual groups are a great way to meet likeminded people. We have a varied timetable of sessions which take place during week days, as well as evening options too. We also offer free postal services including our weekly puzzle and craft packs, perfect for those who can't commit to a regular telephone session.
Who can we help?
Anyone aged 18 years and over, who lives in Staffordshire, and would like to meet new friends to combat loneliness.
Telephone and Virtual Chat Groups
Our FREE telephone and virtual chat groups are available to all over 18's living in Staffordshire, and are a great way to connect with others. We offer a range of virtual groups for people to join in each week, and a free postal pack service and private Facebook group for those not wanting to phone in.
All our groups are FREE to call, and you can choose whether to dial in from a landline or mobile telephone, or join our groups via Zoom. On joining, you'll receive an initial one to one with a member of our friendly team, who'll have a brief chat with you about your interests and what groups you might like to join.
Our group leaders will welcome you into the group each week, and introduce you to the current members. The maximum number in each group is 10 people.
We have a new timetable with all of our activities from book club and history groups, to aerobics and bingo, so you're sure to find something that interests you!
If you are concerned about a loved one, or if you yourself are feeling lonely or isolated, please call us on 0333 005 0095 to find out more.
You can view our current timetable below: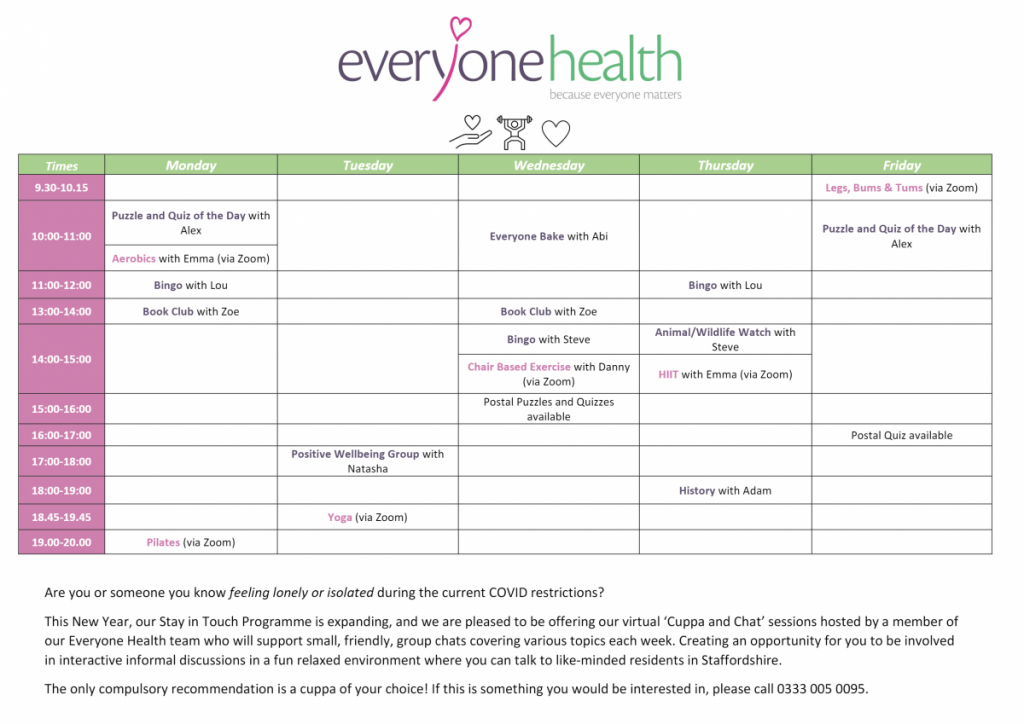 Online benefits calculator
Staffordshire County Council provide an online benefits checker that enables Staffordshire residents to find out what benefits they may be entitled to. It should take no more than 10 minutes to complete and all details provided are anonymous.
To find out more about this free and easy to use benefit calculator, please click the link below:
https://staffordshire.entitledto.co.uk/home/start
Seek help today
If you feel loneliness is becoming an issue for you or someone you know, contact us to find out more about our FREE support.
Or call us on 0333 005 0095